I know of Donal Ryan through his award winning novel, The Spinning Heart. When I discovered he was publishing a collection of stories, it made sense: Ryan is one of those writers whose prose works in short and long form. The acute observations, the imaginative use of language, his writing brings alive the intricate cruelties and pain of life and offsets these with the moments of kindness, hope, love and humour.
Some of the stories in this collection are snapshots into people's everyday lives. Others are specific tragedies, for example, death, prison and conflict. I particularly liked: The Passion, which aches with regret and the sense of not knowing how to make a situation better; The Slanting of the Sun, filled with menace and hope; the building tension in Nephthys and the Lark; the sense of completion in Trouble; the irony and humour of Crouch End Introductions.
This has to be one of the most wonderful story collections published. I read two stories a day, one with my breakfast and one in bed. Each one struck me, bam, in my guts and I was momentarily immobilised while my imagination fizzed and spun. Sometimes it was a phrase, a particular word or the way that Ryan conveys an action or emotion which made me think, yes, that is exactly how it is. What I like about short stories is the concentrated experience, the sharp focus. Reading Donal Ryan's collection is the equivalent of popping a chunk or two of Green & Black's 85% dark chocolate into your mouth and letting it dissolve from room temperature. It's a strong and sensual 'hit', not too sweet, and definitely to be savoured.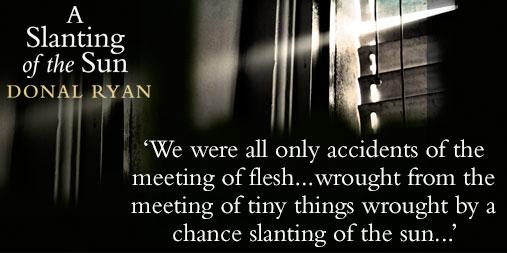 I have been a fan of Irish writing for many years. My collection of Seamus Heaney's poetry is rarely all on the shelf at the same time, and his depictions of rural life (and its parallels) have been favourites of mine for many years. I adore the stories of William Trevor and Kevin Barry, and Claire Keegan's work has a similar effect on me as Donal Ryan's. Increasingly I have been reading Irish crime fiction. Reading Irish writing as a non-Irish person is a particular experience whether it is set in Ireland or not. With its characteristic themes of pain, love, death, conflict and beauty, so much is familiar yet the culture and history in which the pieces are steeped, are not. Irish writing is simultaneously personal and political: humour and strong family bonds provide the backdrop for the details and minutiae which represent years of history and struggle.
In sum, for me, in an era when our worlds are squashed into computer clicks and tablet screens, the stories in A Slanting of the Sun somehow feel extremely important.
Sort-of-apologies for the image overload but I am obsessed with the book cover. In fact, all Ryan's covers are stunning.
With thanks to the publisher and author for an advance review copy.
——————————————————-
Vicky Newham © 2015