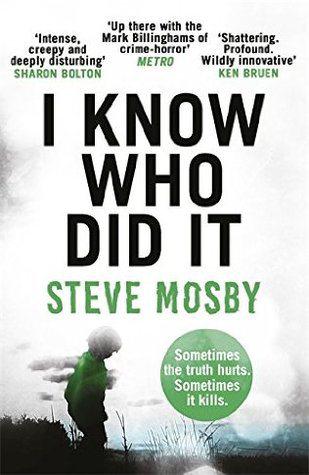 So far this year I have four favourite books. I Know Who Did It is one of them. What I like and admire about Steve Mosby's writing is that I am continually checking what I think I know about the characters and plot. He is highly adept at giving the impression that one thing is happening when it is something completely different. Naughty. Or, giving few clues at all as to what is happening. I love books like this as they keep me on my toes by adding misdirection to the various mysteries to be solved. And what an unusual collection of mysteries I Know Who Did It presents.
The book starts with a man named David Groves being driven into the woods. The atmosphere shudders with menace and intrigue. I had no idea what to expect but I was on complete tenterhooks, much as one is with a good horror film. Through his son's clothes and favourite toy, Groves identifies the remains of his son in a pit. Fast forward, and, every year, Groves receives a birthday card for his dead son. This year, however, the card bears the message, 'I know who did it'. Well, that really sends the birds into the air.
The story then switches to Charlie Matheson who died in a car accident. When a woman is found, who looks like identical to her, and claims to be her, Detective Mark Nelson is called in to investigate. Her account of her death and afterlife are unusual, to say the least. And there you have it. In a few brief chapters you know what you're dealing with. Or, rather, you don't: a woman who has come back from the dead and a man who's receiving cards for his dead son.
This book ticked all the main boxes for me. There are historical crimes and contemporary ones. There are characters who are struggling to come to terms with loss. Furthermore, Mosby is a writer with an extraordinary understanding of the complexities of psychological processes and how morality adds additional considerations to already complicated emotions. When these are combined with notions of heaven and hell, God and the Devil, right and wrong, good and bad, and what constitutes sin, it makes for a heady mix. He weaves these themes into a plot which, trust me, will blow your mind. More than this I can't say without spoilers.
The structure of the book works well and the reader hears various points of view, with Mark in first person. I warmed to his character and sympathised with his difficulties and conflicted feelings. The shifts between viewpoints are clearly indicated.
I could see thriller and horror elements and influences running through the book in addition to the crime set-up (although don't want to say too much about these). There was a sense of time running out and this gave the novel a tense pace throughout. I never knew when someone was going to do something awful either to themselves or to another person. I was curious to know how Mosby was going to explain the various crimes and whether they might be linked. There were a number of game-changing plot twists, several of which literally had me grunt, OMG, through a clenched jaw, once I had returned to earth from their three sixty degree spin. And then immediately read on to find out what was going to happen.
Something else which I liked about the book is the way in which some of Mosby's characters reflect on their lives, and on how motivation and actions converge. Integrity is an important theme, along with the conflicts that can arise when being true to one's own feelings can result in feelings of disloyalty. It is a story about how difficult it can often be to do 'the right thing', or even to know what that is sometimes. It's also a story about how difficult it can be to forgive ourselves when we make mistakes. Mosby's writing speaks to the human condition with sophistication, subtlety and insight. There is no moralising or preaching: just a lot of questions which will worm their way into your wondering brain.
I hope we see more of Mark and Sasha. Mercer's role was a little vague for me but this book has made me want to read the 50/50 Killer now (not necessary – I Know Who Did It is self-contained) to find out what happened on that case and what the deal is with him.
I wasn't sure where this novel is set as, unless I missed it, no actual place names are mentioned. There is reference to towns and woods, and description of both, but I wasn't sure if we were in London or the North of England. I then started to wonder if this bothered me. It didn't. This raises an interesting question about whether stories need to be anchored in an identifiable location or whether imagination is sufficient. Towards the end of the book a place is mentioned which I know well – a fictionalised version in the book – and I found it hard then not to map events onto my knowledge of that place and its history. I then realised that was pointless as it's a bit like readers mentioning in reviews that a particular bus doesn't go up a particular street. It's fiction!
In sum, I highly recommend I Know Who Did It. It crackles with menace, there's plenty at stake, and the plot is unlike any other I have read. I seriously challenge you to guess its resolution! I think Mosby is one of the best male crime writers around. More, please.
My review copy was obtained from NetGalley. With thanks to the author and publisher for this. Publication date is 24th September.
You can find Steve on Twitter @stevemosby. His website and extremely interesting blog are here: http://www.theleftroom.co.uk/
—————————————————————————————-
Vicky Newham © 2015